In March 2018, Whole Foods Market opened up with much fanfare in Bridgewater, NJ.
It's located at 319 Chimney Rock Rd, Bridgwater, NJ 08807 (map below). This is part of the new Chimney Rock Plaza retail complex which is in the midst of an already crowded retail sector along Route 22.
Tenants also include The Container Store, Nordstrom Rack, Saks Off 5th, and several other chain-type stores and restaurants.
Now that the hype has settled down after the "influencers" and other paid positive coverage is behind everyone – we'll present a voluntary, and entirely honest review of this Whole Foods, the Whole Foods company, and the supermarket industry in general.
Whole Foods is a supermarket
Fundamentally, Whole Foods is a supermarket, just like Wegmans and Shoprite.
They sell fresh produce (fruits and vegetables), frozen food, meats, seafood, smoothies, and other prepared food. As well as a huge array of "packaged goods." Par for the course so far, right?
But Whole Foods is different in a very specific way…
Whole Foods is a pinpoint niche market
In our opinion here at NJroute22.com – we believe Whole Food's main business model is focused on presentation as well as emotional triggers. Let's delve a bit deeper into our observations.
Presentation
Hey, we've been to many Whole Foods Markets over the years. We do not "dislike" them per se. We live in a capitalistic society, and they're free to try and sell what they want. They have many paying customers, so I don't see them going away anytime soon.
Their stores present themselves in a "healthy" way. Lots of signs, which amount to "memes" basically. Like this one here talking about healthiest…
I'm guessing they want the place to feel "friendly" in some kind of accommodating way. And it does, for the most part.
Emotional Triggers
This is where it gets tricky. Most of the products and produce sold at Whole Foods have some kind of emotional trigger attached.
And what do I mean by that?
Buzzwords.
All the right buzzwords, too. Like "sustainable" (see their paper towels below).
Whole Foods has properly identified a niche entirely based on healthy living.
Or perceived healthy living.
The entire thesaurus of trending healthy buzzwords can be found at a Whole Foods. Organic, grain-free, grass-fed, free-range, pesticide-free, small-batch, handmade, eco-friendly, nitrate-free, local, and a thousand more.
And there's nothing particularly wrong with any of this. It's an industry, and Whole Foods is doing their part to perpetuate it.
We're just pointing it out.
Whole Foods of Bridgewater, NJ is nicely laid out
In general, the Whole Foods of Bridgewater, NJ is a decent supermarket. The store is much like others (although seemingly larger than most).
Things are easy to find, although we had noticed many products that were lacking price stickers on the shelves, or even in the display cases. Maybe they're still working their kinks out.
The store is bright, and far from cramped. We did shop there at an off time, and it surely gets more crowded on weekends.
Here is a gallery of some general pictures of the Whole Foods of Bridgewater, NJ:
Financially – you need to have money to regularly shop at Whole Foods
We shop at pretty much every single supermarket along the Route 22 area. Places like ALDI and ShopRite (affordable), to Wegmans, Kings, and other local independent grocers.
If you picked 20 staple items you buy each month (i.e., milk, eggs, cheese, meat, produce, paper products, etc.) and compared prices, we're convinced that Whole Foods would be by far the most expensive. By a factor of TWO or THREE at least. With Kings coming in a close second. Trailed far by ShopRite and Wegmans, with ALDI being the absolute most affordable (although lacking the "experience").
Not everyone has the luxury of bleeding their bank account for "feel good" buzzwords on their products. But some people do, and rightfully choose to spend their money at Whole Foods. To each their own, right?
But $7 for a block of cheese at Whole Foods buys you FOUR similar-tasting blocks at ShopRite. Just saying!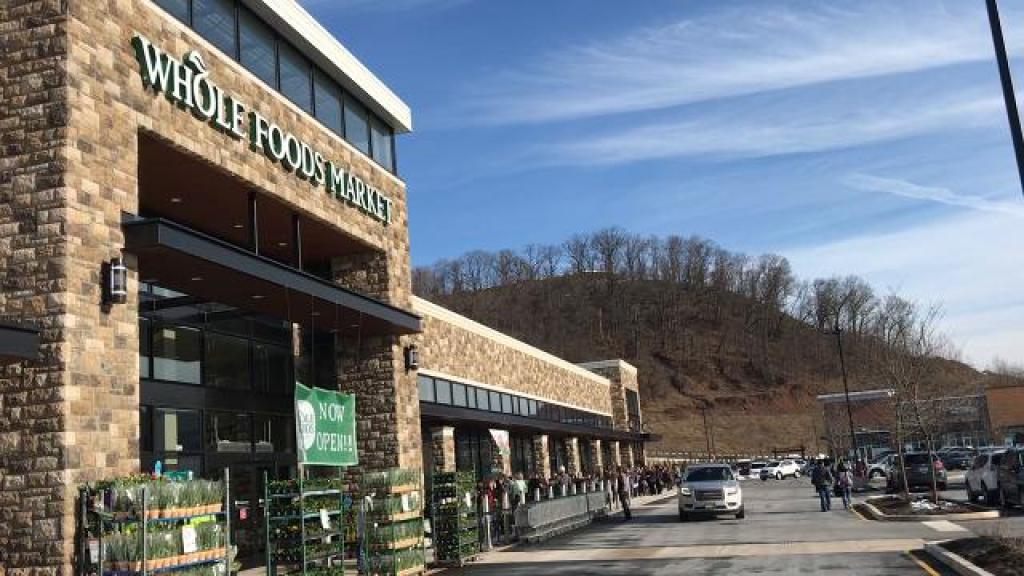 Final Thoughts and Observations about Whole Foods Market of Bridgewater, NJ
We have some additional viewpoints worth sharing about this Whole Foods in Bridgewater. These are our individual opinions based on our experience. Your mileage and cognitive conclusions will vary.
Some employees will not shop at Whole Foods

We talked to several employees at this Whole Foods. They also understood how expensive this supermarket is.

One employee told us that even with their whopping 20% employee discount, that they still DO NOT SHOP THERE. That places like ShopRite are still profoundly more affordable. Interesting, eh?

Why don't they hire healthy workers?

It pains me to say this, but the majority of female employees we witnessed during our visit were grossly obese according to the Centers for Disease Control and Prevention.

When Whole Foods installs giant signs that say they're the "healthiest supermarket in the world," shouldn't that have some impact on who they hire to represent that so-called healthy living?

We understand equal-opportunity hiring practices, and all that, but having a literal herd of overweight employees sends the wrong signal. And we don't care about inclusiveness. This is about logic and common sense.

No 200 lb. woman ever won a fitness modeling competition, right? Are there no suitable healthy workers available anymore? What's the deal?

Their tables are a safety hazard for children!

As part of our visit, we also took a snack break. A sandwich (okay), yogurt (packaged), and some store-made pesto chicken salad (flavorless).

But the ROUND tables (pictured below) were absolute disasters in the making. They had THREE-PRONGED bases. And they were heavy. Our 30 lb. daughter nearly TOPPLED the table to the floor. This could have caused injury and pain depending on who it fell on.

I confirmed how easy it was to topple these tables.

Whole Foods needs to rectify this situation immediately.
Again, it's just an expensive supermarket
In conclusion, Whole Foods definitely has a place in the food world.
While they're way expensive, they're a source of things you might not be able to get at alternative supermarkets. Which is good to have at your disposable if the situation warrants it. Get my drift? (Not smart to use as an "everyday" food source.)
And many area residents DO like the healthy aspect of Whole Foods. Which is great. Now they don't have to drive to great lengths to find one.
However, even with the recent Amazon.com acquisition, the prices are still out of reach for many people. And that's too bad.
But we welcome them to the area, and will still frequent them occasionally, because of their special niche. We'll try to limit the financial damage, but with weekly sales and other promotions, it's possible to find some okay deals at Whole Foods.
What are your thoughts about this new Whole Foods in Bridgewater, NJ?
Value

Quality

Experience

Parking

Intangibles
Feel good, at a steep price!
Whole Foods is an enigma. They present themselves as clean, healthy, and all that. But in the end, we feel they're preying on emotional triggers, and will probably not extend your lifespan by years and years for buying into this mindset. Most of the stuff is okay in general. Just try to be aware of how this industry operates, and watch them as they adopt to public consensus. You money will go a lot further elsewhere.