Wegmans is a great supermarket.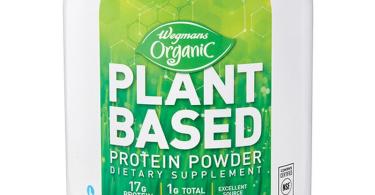 You know how people go on and on about places like Whole Foods or Trader Joe's? Well – one place puts them both to shame: Wegmans Food Market.
And it's worth your effort to include them in your choice of supermarkets despite the fact that they have only a couple NJ locations. They have certain options that stand out.
You will not regret it.
There are three Wegmans locations in the NJroute22.com coverage area. Bridgewater, NJ – as well as Easton, PA and Bethlehem, PA. They have one in Woodbridge, NJ as well as way up in Hanover, NJ – but those are both outside of the scope of this publication.
The photos for this post were taken at the Bridgewater location.
20 Reasons why Wegmans is worth considering
There are definitely more reasons than we'll outline below – but these are some of the most important to us.
1. Incredible meat selections.
Fresh steaks, burgers, chicken, lamb, ribs, I could go on. And hands down the largest inventory of delicious and fairly priced ORGANIC meats. Out of this world. Their organic chicken is Wegmans-branded, but it's actually Bell & Evans. Compare the prices to Kings – and you'll see why that is already a reason to consider Wegmans.
2. Family Pack values.
If you plan smart – their "Family Packs" are "shopping club" values. Up to 50-60% less per unit price. For instance, this pack of bone-in Chicken Thighs was only 99 cents per pound. Breasts are only $1.88 per pound.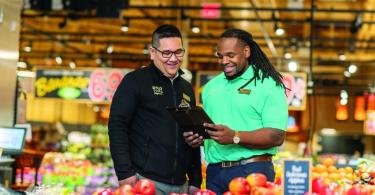 3. Salad green values.
You know those plastic boxes of salad greens? Their organic salad greens are a tremendous value. Spinach, Arugula, Mixed, etc. $2.49 for 5oz, and only $3.99 for 10oz (family pack). Usually at least 50% more at other supermarkets.
Can a store-brand be so good?
4. The Wegmans Brand.
Seriously, everything with the Wegmans brand name is not only significantly cheaper – but just as good, if not better than other "brand-name" products. One of my favorites is this Spicy Green Sriracha Sauce with Jalapeno & Cilantro. It's uprooted the traditional red sriracha in our house. Awesome, and multi-functional.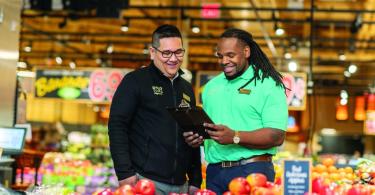 5. Paper Towels.
The Wegmans brand paper towels. Almost as good as Bounty, but much cheaper. A "12=20" pack (726 sq. ft.) is only $12.99. Often down to $10.99 with coupon. They sell them by the pallet-load each week. And don't get us started on how the entire paper towel industry is a semi-racket with their confusing packaging. Smart people calculate the PRICE PER SQUARE FOOT on top of the quality of the paper. Bounty still rocks, but it's clearly the most expensive.
6. Amazing prepared food.
Wegmans has a wide array of prepared food. Both fully cooked, as well as ready-to-cook at home. Haven't even tapped that potential yet.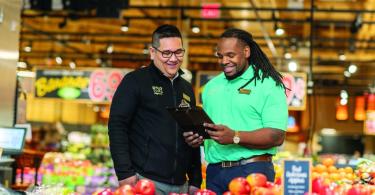 Ah so!
7. Sushi
They have great sushi. Prepared fresh daily in-house, never had a problem.
8. The love of Cauliflower.
Have you ever had cauliflower rice sushi? Haven't seen this anywhere else, but Wegmans has understandably embraced the low-carb cauliflower phenomenon. The Cauliflower Sushi is something you ought to try. You won't miss the rice. 85% reduction in carbs. They also sell riced cauliflower in packs, but it's kind of costly. Saves you a lot of trouble, though.
9. Hot Food Bar.
If you want to make a day of it – their hot food bar is also amazing. A whole selection of stuff. Mexican, fried treats, salad, soups and much more. There is an eating area upstairs that lets you view the action down below. And if you want, there is also coffee, breakfast sandwiches, pizza parlor and subway-style sandwich shop.
10. Fresh seafood.
The fish counter is also top notch.
Embracing healthy trends
11. Organic choices galore.
If you're an all-around organic person – there is practically nothing you cannot find at Wegmans. Fresh produce, meats, dairy, frozen, all over the store. You need organic? You'll find success. And if they don't have your preferred brand – a simple request at the service desk and 90% chance they'll start carrying it.
12. Gluten-Free represents.
If you're celiac, gluten intolerant, or just like gluten-free – they also have you covered there. Beyond the best representation out of any supermarket chain. And at the most competitive prices.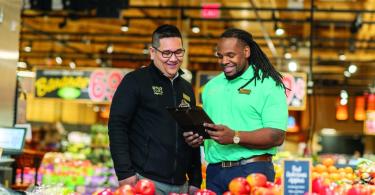 13. Incredible bread selection and bakery.
We can't speak personally about these products, but upon inspection, observation, and rate of sales – these are also a good reason to shop there.
14. All-Star Catering.
Over the years, when we had family events – the catering wherever we chose to go – was "hit or miss." But you would be blown away by the variety of catering options you have at Wegmans. And the professionalism and execution are flawless.
Last call for alcohol!
15. Alcohol.
Wegmans also has a fantastic selection of beer, wine, and liquor. At the same or better pricing than even dedicated liquor stores. One stop shopping.
16. Mediterranean Bar.
They have an olive / Mediterranean bar that is bigger than most urban apartments. I'm not a fan of olives – but they responded to their customer's wishes – and expanded it recently. I always see people filling up their containers. So it must be a big hit.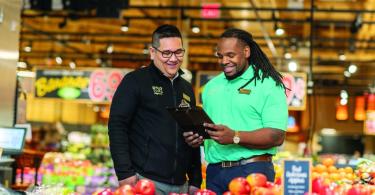 17. Pet food.
The Wegmans brand grain-free dry dog food is a hit with our pooches, as well as the Grandma's biscuits. Prices went up recently – but still a great value.
18. Cheese lover?
Man, they have a crazy amount of choices when it comes to all kinds of cheeses. These photos don't do it justice. Including several dozen different organic cheese varieties in stock.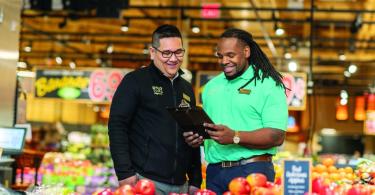 Not product-related…
19. Happy Employees.
Wegmans was not only voted the best supermarket many years in a row – but also one of the best places to work. Turnover is minimal, and the employees always seem fairly happy, helpful and content. That rubs off on the customers.
20. Joined the "apps" parade
Wegmans does have a downloadable app to aid in shopping, and they also joined the stupid "digital coupon" parade, which can be loaded on your card (like ShopRite). But their "shopping card" rarely saves you a ton of money (because their prices are low, to begin with). But it does help to have an account, as you'll often save on alcohol. But we prefer the straight-up approach that doesn't "exclude" too many people who don't have the time to fiddle with loading coupons.
Without adding additional points – Wegmans is much more fairly priced than others (Whole Foods in particular – even after being acquired by Amazon). While we do still shop at Whole Foods (they have the ABSOLUTE BEST "ancient grain" burger buns in the world – exclusively), the overall cost is at least 10% to 20% less at Wegmans. Also – I think Trader Joe's has sub-standard packaging, which influences us as well. Shoddy packaging is unacceptable.
And?
Intangibles
Other than what we've listed above – something about shopping at Wegmans is pleasing. You always have a satisfying experience. The store is well laid-out and maintained. Clean, orderly and overwhelmingly positive. Winning!
Tips
► Best to travel off-peak to minimize drive time. Early in the week, mid-day is ideal. Keep in mind alcohol sales stop at 10 pm (store open until midnight seven days a week). Or just do it on the weekend.
► If there are long lines – but one of the express lines are free, use them. They never refuse any customer, regardless if you have a lot more than "10 items." You might get dirty looks from other customers, so engage at your own peril.
► Trip too much "hassle" to go regularly? Formulate group errands. They have a Home Depot in the same plaza, and the Bridgewater Mall is nearby. (By the way, Bridgewater Mall isn't so bad – up there with Short Hills Mall, IMO.)
Is there something you DON'T like about Wegmans?
This is not a paid promotion for Wegmans. Just sharing the love.
However, despite the love-story above – not everything about Wegmans is perfect. Always room for improvement.
1. Not a fan of their roast beef. Even ShopRite's "Black Bear" roast beef is better. But that is why we typically buy local roast beef at a specialty store somewhere (Bishop's in Whitehouse is good, and Rambo's in Califon also rocks).
2. The pharmacy-type stuff is a bit weak (first aid, vitamins), but I'm struggling to find things sub-standard with their store.
3. I wish there were more. But competing with ShopRite is a colossal endeavor. I know that the supermarket "mafia" and brand allegiances people have may play a role in where supermarkets open, but cmon! There has to be some way to get more of them.
Give Wegmans a shot soon!
I think the "magical trip time" most people can be content with is 20-25 minutes. Anything longer appears to be a chore for everyone. And that may be why most of you would choose convenience over the profound other benefits you'd realize. It's a shame, however.
Because there are trips that are worth it. And going to Wegmans is one of them.
Why not check it out to see for yourself? Maybe I'm full of it?
I doubt it.
Value

Quality

Experience

Parking Lot
Summary
A solid supermarket experience. Great organic meats. Good "family pack" values without the annual club membership. Not perfect, but close. One of their few downsides is not enough locations.