We've talked about Paper Towels here before. It's a big racket, really. Especially with select-a-size.
Frankly, we like calculating the best value. It's not sheets or rolls. It's PRICE PER SQUARE FOOT. Almost no one bothers to calculate the TRUE unit of measure that is comparable between all brands and options.
And while there is some difference in quality – most "premium" paper towels are similar enough these days.
We have a few top contenders.
Bounty is considered the gold standard – but they are out of contention due to price (most often over 3 cents per square foot).
Our finalists for best bang for the buck are ALDI brand – Wegmans brand – and Walmart brand. All under 2 cents per square foot. Sometimes as low as 1.5 or 1.6 cents per square foot. For "premium," Bounty-like paper. We also love White Cloud when it's on super sale – however, it appears that their quality has changed since we first re-discovered them.
But there is a new CHAMP. Lidl.
1.4 cents per square foot.
And the quality (we feel) is better than all of them. No joking.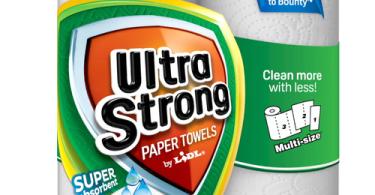 Best value at LIDL is the smaller packs! (who knew?)
Most of the time – buying in volume is always cheaper. I cannot remember any time that was not the case.
But Lidl has either made an error or just likes doing it this way.
The TWO-PACKS of their strong paper towels was substantially cheaper than buying the SIX-PACK.
$1.89 for 130 square feet (2 rolls) = 1.45 cents per square foot.
$6.99 for 390 square feet (6 rolls) = 1.79 cents per square foot.
That's over 20% more costly to buy in the bigger pack. Three 2-packs for the same paper costs only $5.67.
Anyway – this is our new top paper towel contender. If we can make it out there.
Enjoy the money saving tip we just gave you for free!