Let's start out this brief food product review with: There is at least ONE good thing about the Real Good Pizza Co. Products.
The rest requires a little analysis, especially for low-carb, keto, carnivore people.
For starters, the good is that these products are low in carbohydrates and do not excessively raise blood sugar levels.
But after testing a few of the Real Good Pizza Co. products – we have some mixed reviews and some advice to help you understand their offerings a bit better.
[Note: Most Super Walmart stores have a decent selection of these products – and some ShopRite Supermarkets have a few. Real Good Foods seems to focus primarily on Walmarts.]
Real Good Pizza striving to be a low-carb snack "go-to"
If you perused the Real Good Pizza Co. website – you'll see that they're trying to offer "replacements" for what are normally widely-accepted and admired frozen meals and snacks.
Pizza, enchiladas, and other appetizers normally found in commercial restaurants (like "poppers.")
Their cornerstone is making things normally made of high-carb bread – out of alternative ingredients such as chicken or cauliflower.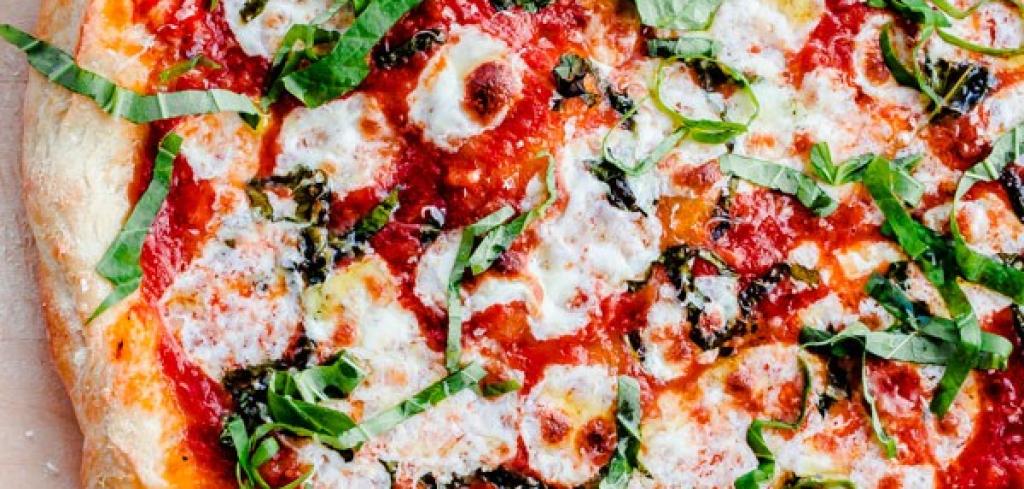 Very expensive food that puts it in the league of gourmet
We mentioned in a previous VLOG – that their pizzas end up costing over $13 per pound. That's more than premium roast beef.
By comparison – we got SEVEN POUNDS of 80% ground beef over at Wegmans for around $13 as well.
Another way of looking at it is – seven pounds of this pizza would cost $90! And for ninety dollars – you can get over 40 POUNDS of ground beef!
Makes you wonder why anyone would ever "splurge" on this expensive frozen food.
Quick reviews of 3 Real Good Pizza Co. products
Okay – here's what we tried – and our analysis – along with some photos.
1. Real Good Snack Size Pizzas – Bacon & Cheese
These pizzas have a chicken/cheese crust – along with sauce, cheese, and bacon on top. They say to cook in the oven – and for a "crispy" crust – finish by pan-frying for 2 minutes. We did that, and this was a complete disaster.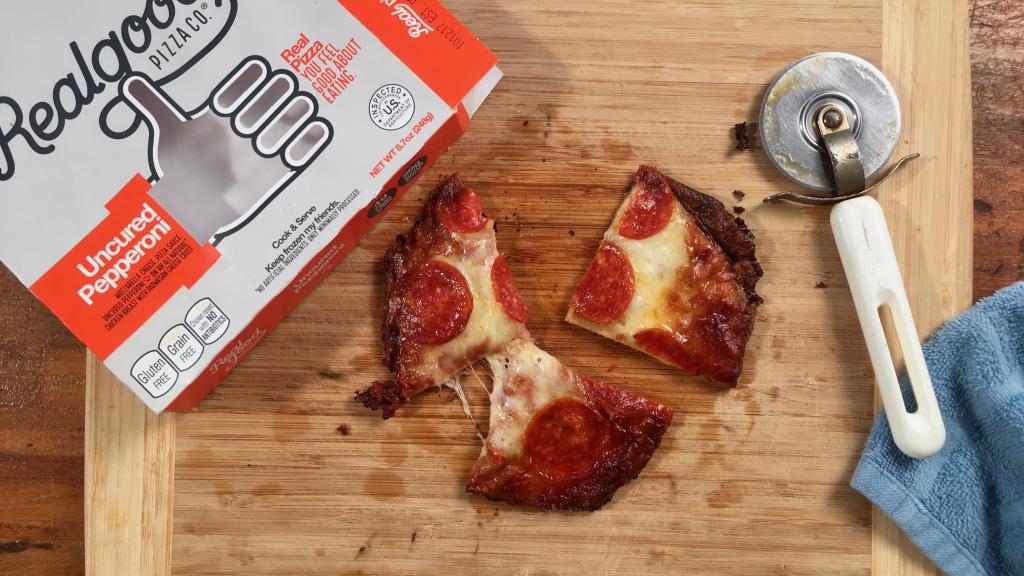 The sauce and cheese slid off like the crusts were made of Teflon. A truly unenjoyable eating experience.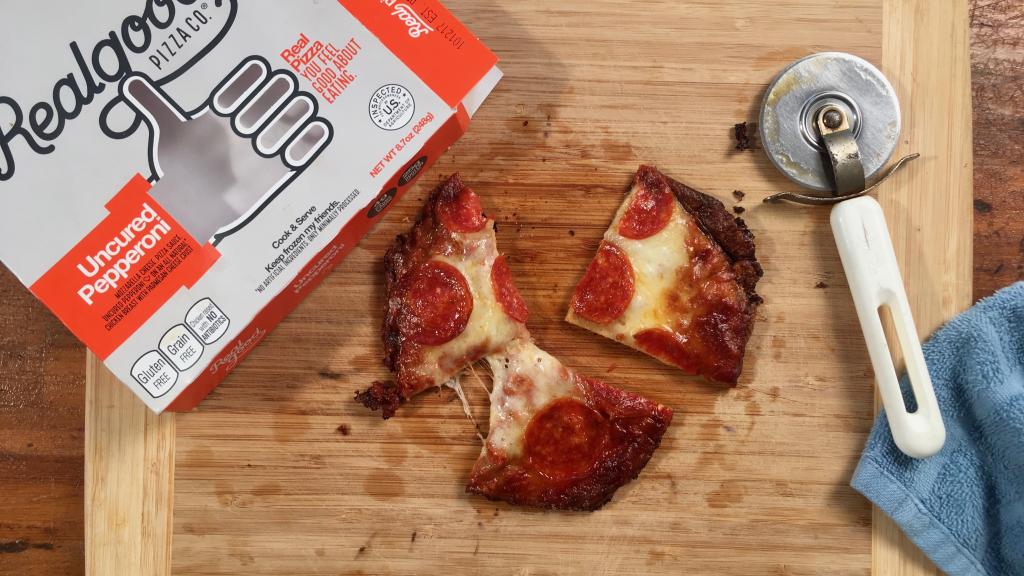 The toppings were okay – but the overall not worth it.
It's also notable that there is likely too much protein in these snacks (23g per 4 "slices.") Low carb people tend to eat moderate amounts of protein, as excess protein essentially turns to sugar/fat if not used/burned throughout the day.
2. Real Good "Poppers" (both pepperoni and artichoke)
Out of the products we tried – these were undoubtedly the best. But you MUST put this into perspective and change your expectations.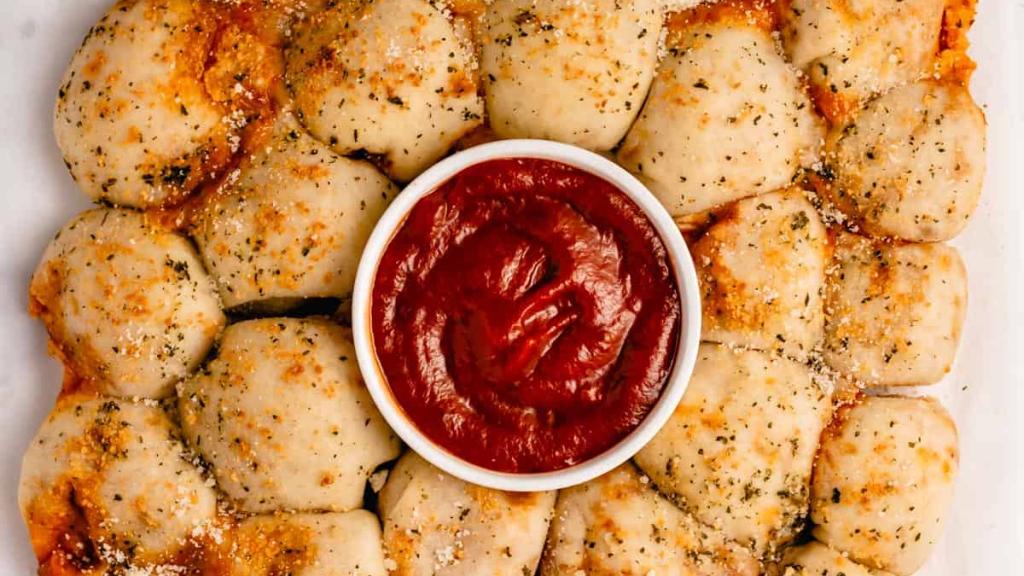 If you are looking forward to that restaurant experience of "poppers" filled with cheese and other ingredients – STOP! Do NOT buy these, you will be severely disappointed!
Instead – change your mindset – and expect CHICKEN NUGGETS, filled with a little bit of flavor.
That's right, these things were like 95% chicken – with a little bit of filling. IF that is what you are prepared to expect – you can find happiness in these.
We like the fact they were very low carb, and with a good dipping sauce (like a sriracha mayo or spicy mustard), you can enjoy these. A bit dry – but that's okay.
I'd prefer to give my kids these over heavily breaded chicken tenders from other brands.
3. Cauliflower Pizza – Uncured pepperoni (full size)
This beast is big for a frozen pizza. Needed the main oven to cook.
Came out beautifully!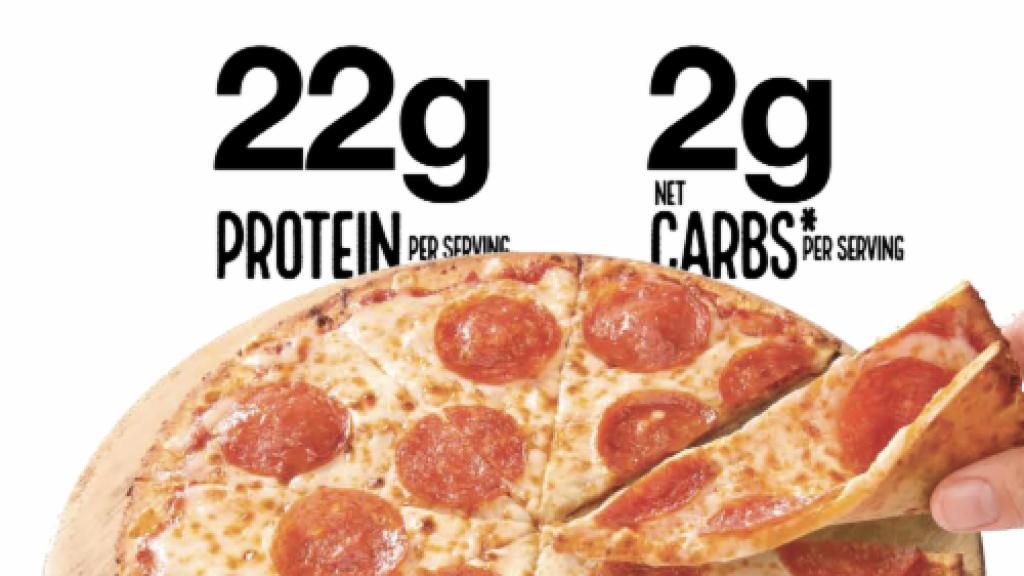 Also low-carb, so things were looking good.
Until we ate a slice.
We realized a long time ago, it is absolutely FRUITLESS to try and replace the big, bad, bread from days past. Cauliflower pizza crusts suck. Especially ones made with any alternative flours like almond or coconut.
While this was the "Best" cauliflower pizza out there (most cauliflower snacks are bogus LIES with more carbs than regular snacks!) because it was indeed low carb (2g NET carbs per 1/4 pizza).
However, we feel it's completely pointless to eat this kind of food. It's just not good. Why stuff your gullet with food that isn't good?
So we ended up eating the sauce and cheese off. Very filling still, without the nonsense of "wannabe" pizza crusts.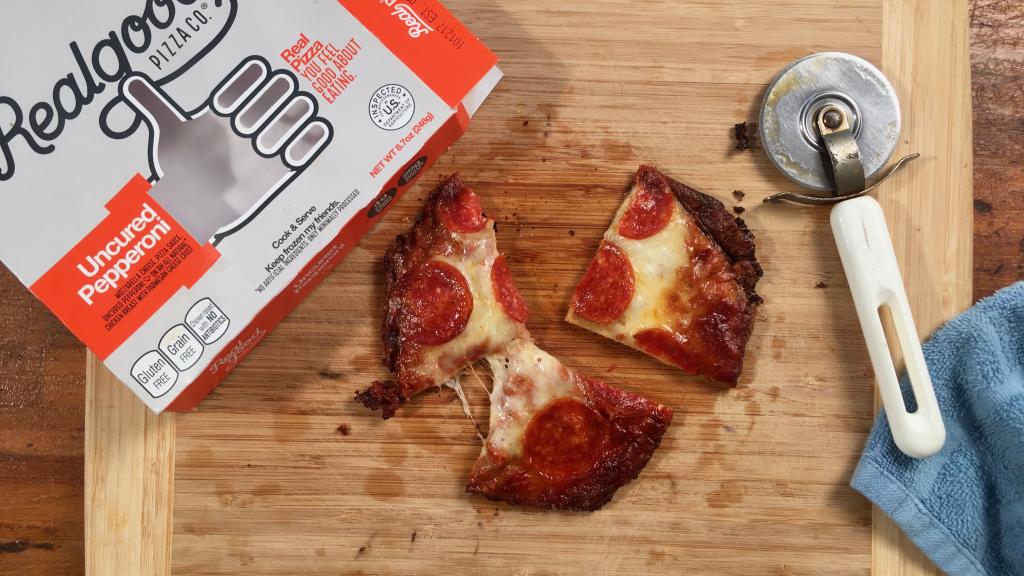 We recommend just eating mozzarella, some garlic, and a DRIP of tomato sauce if you want to get that pizza feeling. Just close your eyes and pretend you're taking that first cheesy bite of pizza. Works.
But where you're seriously low-carb, you stop missing the toxic foods of days past.
Conclusion: ALWAYS EAT FRESH instead of FROZEN
We've come to realize that eating any frozen food these days is a waste of time and money. That is – the "healthy" frozen foods.
A lot of people still buy those cheap 99-cent frozen personal pizzas that are just toxic in more ways than one. While a lot less money – they end up costing a lot more down the road. From the insatiable hunger people will continue having – to the deadly health detriments.
We do admire the Real Good Food Company for filling a void when it comes to frozen food products. It's a step in the right direction. We do not dislike the company for trying. It is understandable and a noble effort indeed. A business decision that is honestly pretty good. Luckily for them – most people are not "woke" yet. So they have a decent market waiting for them.
Perhaps this can be a "gateway to good" for people looking to improve their well-being.
Yes, we're a bit harsh on the frozen food industry. And for good reason. It exemplifies the laziness and stupidity (or ignorance to be kind) of the American public. There literally is no reason to eat "processed" foods of any kind.
We're not regretful for trying the Real Good Pizza Co. products at all – it actually served as a firm reminder that our carnivore lifestyle works so well – there is no reason ever to deviate (except for "public service announcements" such as this honest review.)
Enjoy your day – and remember that blood sugar levels are the absolute KEY to optimum health! (Our opinion – consult your dumb doctor for legal reasons.)