We don't eat out too much, but an opportunity presented itself as we had a mid-week (and mid-day) oil change appointment over at the highly-acclaimed Audi / VW specializing Dan's Automotive over in Branchburg, NJ.
A short walking distance away (four minutes) is Stoney Brook Grille (1285 us state route 28, Branchburg, NJ 08876). We had about an hour and a half to expend and thought it would be a good idea to grab a quick bite, as well as engage the kids.
Stoney Brook Grille is popular
For starters – the Stoney Brook Grille is quite popular in this area of Central NJ Route 22. One, because it's a capable restaurant with a nice facility. Two, well, because there are limited options in the surrounding vicinity. In other words – not too many places to eat out.
Going out to eat is an American pastime, and the fine folks at Stoney Brook Grill pretty much meet all of the requirements.
A nice establishment, comfortable accommodations, and friendly staff – is the formula for any successful restaurant operation.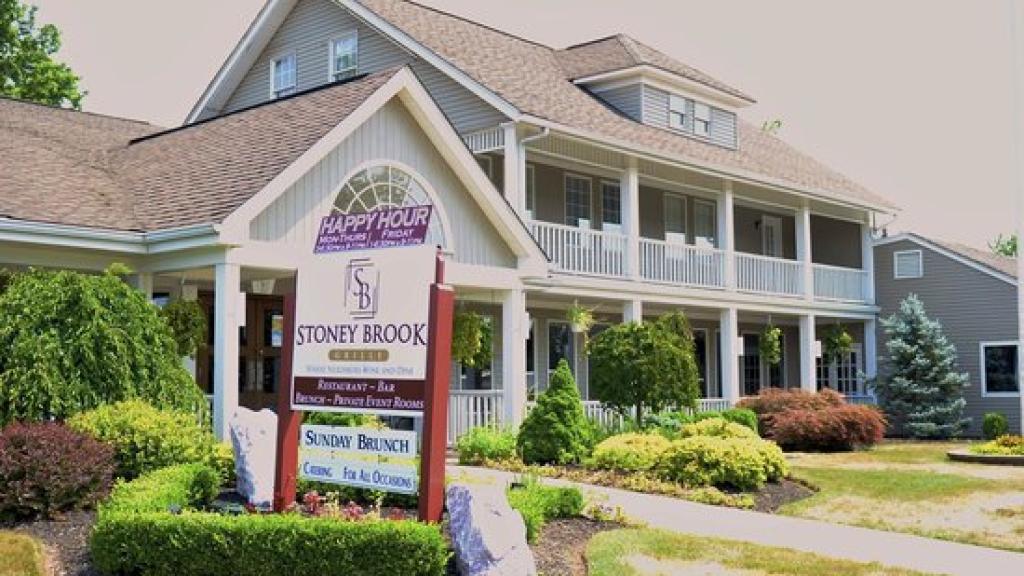 But how was the food & service at Stoney Brook Grille?
For all voluntary exchanges of monetary units – we typically look at a few basic things in order to gauge worthiness. The value being number one, the quality (relatively), our experience, and other intangibles.
Without getting into obsessive details, the value at Stoney Brook Grille was notable. Some items, to us, seemed like bargains. Like their basic burgers. Other menu selections felt like they were a bit on the higher end – but we didn't try them, so we cannot be certain. We're just happy that there were some positive items available to us.
(Note: Yes, this is not your ordinary review of an establishment. Get used to that on NJroute22.com. We personally became dismayed at the majority of "reviews" out there. Most publications typically try hard to satisfy existing advertisers or have the hope of gaining new advertisers based on artificially positive reviews. Alternatively, "hive mind" sites like Y*lp, don't help – as people write the oddest reviews, and shouldn't be trusted. Lastly, the lack of pragmatic thoughts and real-life scenarios led us to believe that most reviews out there were essentially phony and not worthwhile. And don't forget how career food critics get wrapped up in themselves – but that's a story for another day…)
Back to our visit…
Our server was very friendly and accommodating, despite the obvious cultural differences. Didn't matter to us. His service was just fine. They managed the beverage levels fantastically. No one ever ran out of liquid once. Very good service level on the beverages, that is for sure!
The layout of the restaurant and bar felt open, inviting, and spacious enough to us, that even during peak times, it would be hard to feel "cramped." Not sure what the bar scene is like on weekends, but it is probably a hopping spot for locals. We'll have to give it a shot one day. Enjoying alcohol in driving environments is more difficult than in walking cities like NYC, that is for sure. A totally different dynamic out in the 'burbs.
So what did you eat? How was the food?
Okay – we didn't go on some kind of menu-sampling rampage for the purpose of a review. Only the other way around. We ate some basic stuff – and will review what we chose.
One of the adults ordered an Angus burger, the other did an appetizer duo of Mozzarella sticks and the Chicken Wings. The bigger child ordered from the kids menu, the baby got formula, which wasn't on the menu.
Our thoughts:
Summary: Stoney Brook Grille of Branchburg, NJ
Again, take our review either with a grain of salt – or with a newfound appreciation for those that share viewpoints from a more realistic standpoint.
Either way – Stoney Brook Grille didn't earn any "strikes" in our playbook. We'll certainly be back again, especially as the kids get older.
(We're also fascinated by places that add extra vowels to their names… We're not in England, so why is GRILL all of a sudden GRILLE? Did they do that for copyright reasons or just trying to be stylistic and fancy? We'll find out one day…)
And don't forget – we used to be big-time restaurant dwellers in our hey-day, but these days other things rank higher in importance. So if eating out is your highlight each week or month – we apologize for being kind of hum-drum about the whole concept.
We'll share a story with you all at some point in the future regarding the change we made regarding eating out. It's not entirely what you might suspect. Let's just say it's a little bit of a lot.
Overall – we'll certainly be back to Stoney Brook Grille. How often, we don't know. Maybe every 10,000 miles – maybe sooner or later. Not sure. But we're happy they exist not too far from our abode, and there is no doubt we'd like to see what else they have to offer.
FYI – you can call them on the old-fashioned phone at 908-725-0011 if you want more information.
Does anyone frequent Stoney Brook Grille regularly? Do you have any tips? Favorite dishes? Complaints? What about the social / bar scene? Worth becoming a regular there?
Share your thoughts here (preferably) or if you can't figure out how to register on a website in 2018, just use social media. We'll convert you eventually!
Have a nice day everyone!
Stoney Brook Grille - A decent option!
Value

Quality

Experience

Intangibles
Good first impressions
We were happy enough with the overall experience, that we'll certainly give them more shots again in the future. Judging from their popularity and crowded parking lot, we're not alone in that sentiment.