ShopRite Wines & Spirits of Westfield NJ
This is the ShopRite Wines & Spirits location in Westfield, NJ. This is a fairly nice looking location, for sure!
Oddly, their signage looks eerily similar to Bourbon Street Wines & Spirits, but who feels like getting all "Lawyerly" when we're just having fun?
Anyway, this section of Route 28 is packed with retail, as well as a fairly high population density. This is one of the reasons why it's considered one of the first places mega urban-dwellers think about when the urge to "get out of the city" hits them. It has the suburban feel, with a mild amount of buzz, activity, and nightlife. Semi-walkable as well.
Honestly, the whole stretch of Route 28 almost limits itself to surrounding residents exclusively. Which is fine if you live nearby, but not so compelling if you don't?
This area in the image below has approximately 60,000 residents within a 3-square mile area. And those are just rough estimates. Likely higher. Enough to support countless retail outlets!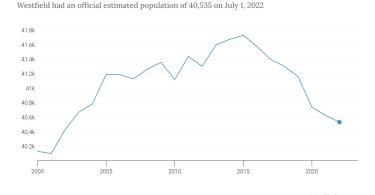 As we've mentioned in previous threads, ShopRite Wines & Spirits are considered a major liquor store in NJ when it comes to economies of scale. It seems almost everything they sell there is either the same or cheaper than almost anywhere else (with exceptions being "sale" prices elsewhere…) But out here, most people probably choose closer locations more often.
Anyway, this location closes at 9 pm every day except Friday (10 pm) and Sunday (7 pm).
The official address is 333 South Avenue East, Westfield, New Jersey 07090. The phone number is 908-232-8700.