Today we venture along Route 22 across state lines into Eastern Pennsylvania – and hit up the Shoprite of Bethlehem, PA!
Do things change when you cross those invisible borders? Let's find out.
PA is noticeably different than NJ
For starters, the ShopRite of Bethlehem, PA is located just two miles to the north from Route 78 (Exit 71) off PA Route 33. This exit is just 5 minutes into Pennsylvania from NJ. You can also access from Route 22 to the north. Not far by any standards.
For those accustomed to the NJ scene – will probably notice a slightly more "open" feel to this area. Kind of hard to explain. Part "breath of fresh air," mixed with "feels forced and planned a bit." That's the way a lot of PA areas feel. A bit more mountainous. Not bad, but not particularly organic or historic. But who's being picky.
Depending on how deep into NJ you live – or how close to PA, Pennsylvania can be a pretty big part of life for some New Jerseyans. They have different laws, different stores, and a seriously different vibe. It's fun to check out PA from time to time. You could even say refreshing. Even if just to try and pick out the subtleties.
But enough about the locale – let's talk about ShopRite.
Yet another group of independently-owned ShopRite's
We mixed up our common routine by choosing to do some shopping at this ShopRite. This is owned by the Colalillo Family. They have a small collection of ShopRite Supermarkets in both PA and NJ. Such as ShopRite of Clinton, NJ, ShopRite of Greenwich, NJ, Shoprite of Flemington, NJ, and ShopRite of Yardley, PA.
Here's what they have to say about themselves:

About ShopRite of Hunterdon County
The Colalillo family joined Wakefern in 1954 when Joseph A. Colalillo opened a ShopRite in South River, New Jersey. Four years later, the store relocated to Flemington, and today is owned and operated by his son, Joe and wife Jeannie, who also have stores in Clinton and Greenwich Township, New Jersey as well as Bethlehem and Yardley, Pennsylvania.
"My family has been serving the communities of Hunterdon and southern Warren County for over 50 years. We started with a small store in downtown Flemington with a handful of employees and have grown to three stores with over 1,100 associates. Over the years our associates, past and present, have worked hard to enable us to grow and enrich the communities we serve." – Joe Colalillo, President, ShopRite of Hunterdon County.
Our vision is simple: Be the Best. We aim to do our best each and every day for our customers and for each other. Our mission is to be the preferred place to work and shop and to retain the best associates to service our customers.

You can definitely see the similarities between the ShopRite's the Colalillo family owns. In fact, if we remember correctly – the ShopRite of Flemington, NJ has the highest sales volumes out of all independently-owned locations (correct us if we're wrong!) The Bethlehem location also feels like the newest out of the bunch.
The Basics: ShopRite of Bethlehem, PA
We actually like this ShopRite the best out of the Colalillo inventory. It is the cleanest, and quite easy to navigate.
Can't quite put our finger on exactly what it is. Perhaps the subtle design and layout just make it a very pleasant store to shop in. The staff they hired was also quite accommodating and customer-friendly.
It's hard to differentiate between supermarkets these days – and much of the overall personal rating comes down to internal "intangibles" that cannot be explained to a typical reader. In the long-run, the food is the same – it's those little things that truly have an impact. And that is why we gravitate towards some more than others.
We'll definitely be back again!
(Note that we do not eat prepared food really – and cannot comment on how their "grab and go" offerings were. But the basic necessities were fresh and easy to find.)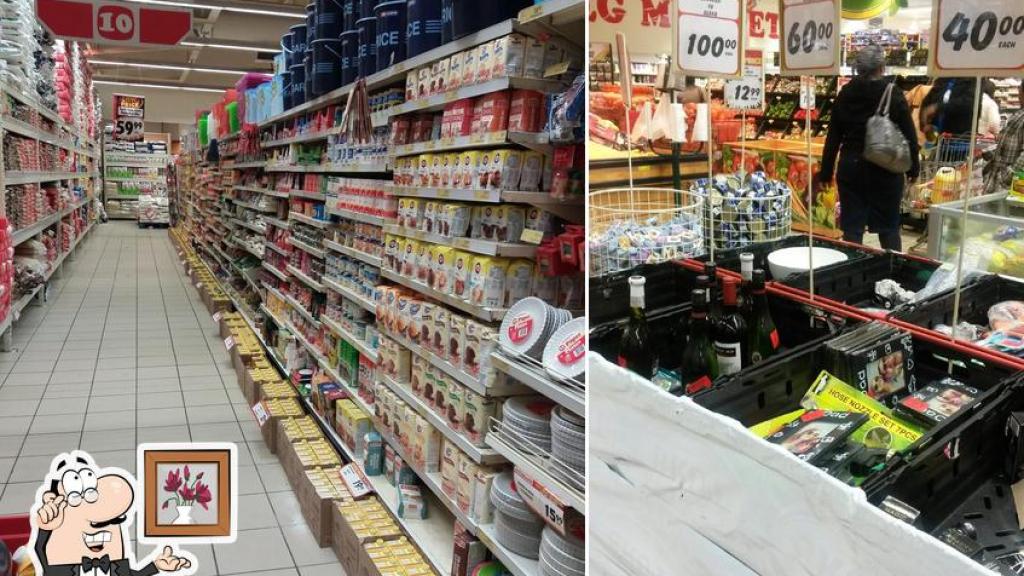 ShopRite of Bethlehem, PA – Brings good luck?
Side note: We lost our wallet in this area. Probably drove off with it on the roof of our car. The first time in our life we officially "lost" our wallet.
What a sucky circumstance for anyone to be in. Besides lost money – there are other truly annoying hassles like canceling credit cards and getting new ID's and so on. We didn't panic.
However, the next day – we receive a call from St. Luke's Hospital across the street from this ShopRite saying they had our wallet. Hooray!
And everything was intact. How nice is that?
Makes us think that perhaps this little supermarket may have some good luck built in?
Map, hours, contact info for ShopRite of Bethlehem, PA
Hours: 7am to 10pm daily
Phone: 610-865-2439
Map: