Officially Opens on Thursday, April 18, 2019.
Cinemark Watchung Grand Opening April 18, 2019
Coming on April 18, 2019 to 1670 Route 22 East in Watchung, NJ – is a 10-screen Cinemark Movie Theater.
Many people like us wonder why there is still a desire for movie theaters in 2019. With on-demand entertainment and massive 4k TV's, coupled with the comfort of your home – the "theater" doesn't have the same thrill as it used to, despite the gigantic screens and thundering sound.
Cinemark will likely do well here, we think. For a couple of reasons which we'll share below.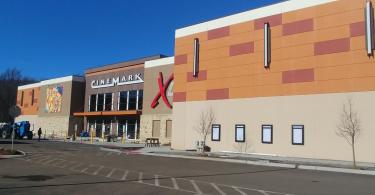 Cinemark fills a void, ups the game for movie-goers in New Jersey
For one – this area, for the most part, lacks a "major" movie theater. The closest ones being either in Bridgewater or Mountainside. So they instantly score marks (no pun intended) for appealing to those who don't feel like driving too far along the congested Route 22 sections.
Secondly – according to public consensus, the Cinemark chain of theaters seem to have the highest levels of customer satisfaction. In terms of cleanliness, as well as "comfort" of the auditoriums themselves. A positive reputation is a good thing. In addition, folks also said that the other "major" theaters such as AMC, Regal, and Bow Tie pale in comparison to Cinemark. So it's a breath of fresh air for seasoned movie-goers.
Lastly – it's been said that their per-person ticket prices are typically lower than the other chain theaters, which is nice especially in this economy.
This will mark their third NJ location. The other two being in Hazlet, NJ, and Camden County, NJ (south of Philly).
I guess there are still enough people that love the theater experience. Fun and entertainment – or just escape from reality, the folks at Cinemark wouldn't be investing the millions to build this location if they didn't think they'd be profitable. We'll see what happens!
Opening Spring of 2019.