Lidl of Union, NJ is a brand new "bargain" supermarket that opened in late 2018 on Route 22 East in Union, NJ.
Situated between the Best Buy and Chick-fil-A – it's the latest trend in supermarkets sweeping the nation – and what we feel is a MAJOR sign of things to come for the next decade or so. Keep a watchful eye out in this business landscape. You might be surprised who thrives and who struggles.
Lidl and ALDI are dictating the future
German food powerhouses Lidl and ALDI are going in full-force here in America. Already huge in Europe – both Lidl and ALDI Food Market are planning thousands of new stores across the country in just the next few years. In fact, Lidl is buying up properties left and right just for that purpose. Don't be surprised to find one old abandoned A&P near you become a Lidl at some point soon.
The reason these stores are blowing up – is because they make sense – and they're super affordable. Much more compared to your other supermarkets across the country.
And there is nothing shabby about these places, despite not all the same exact "brands" that have previously dominated the market. People are slowly realizing that the "no-name" products both stores sell are equivalent, if not better than brand names. And always cheaper.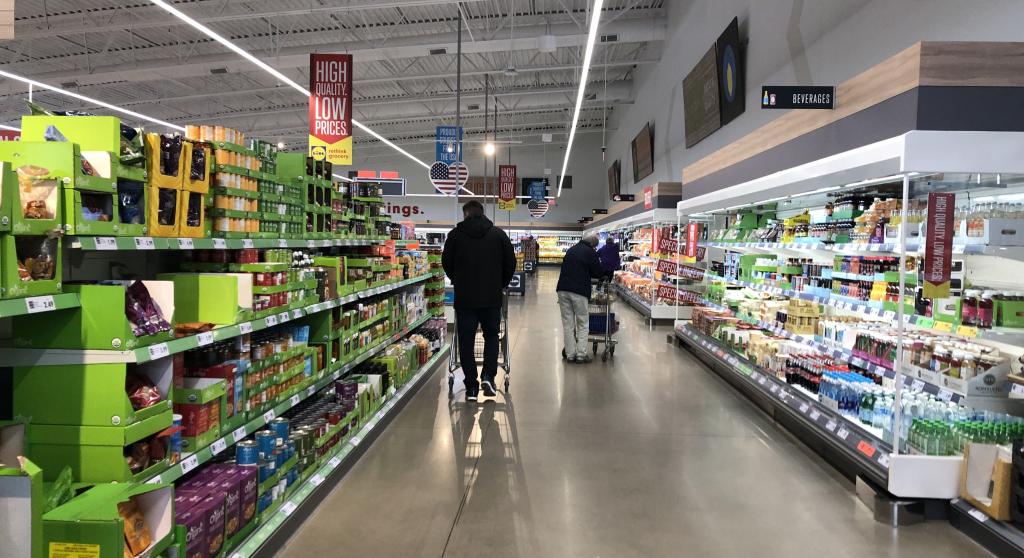 How was Lidl?
We enjoyed our visit to the Lidl of Union. It was spacious, that's for sure. At least it felt that way due to the super-high ceilings!
The fresh produce section was well maintained and fresh, and the selection was plenty.
Same goes for the meats and dairy as well. We scored an incredible deal on organic 85% ground beef ($2.75/lb.) which was good, but a bit too lean for our tastes.
Since we have only been there once – we'd need several more visits to properly identify accurate trends and things we overlooked. But in general – a positive shopping experience upon first try.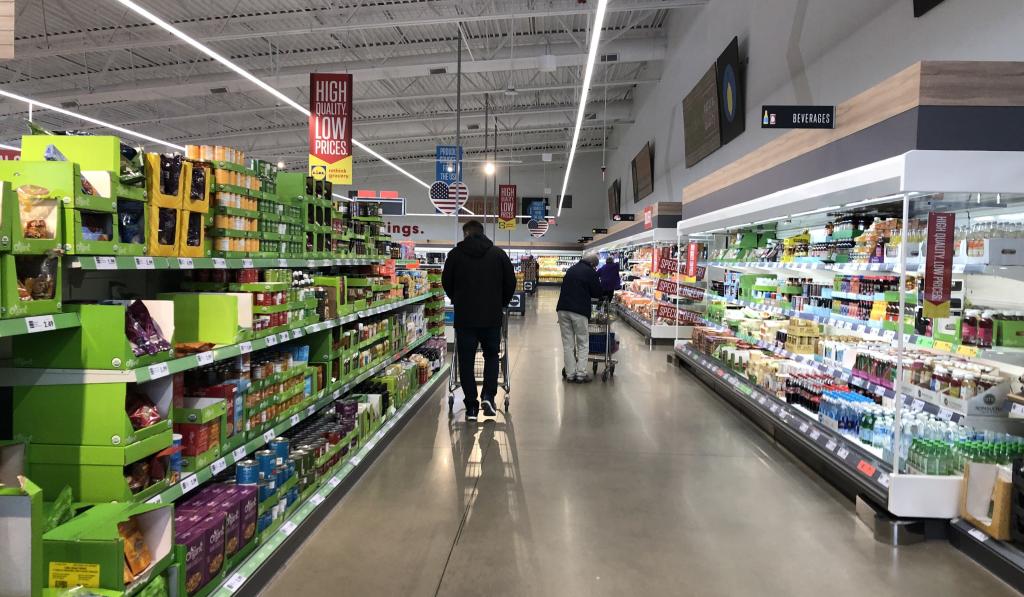 How does Lidl compare with ALDI?
The first thing most people unfamiliar with Lidl would want to know is "How does Lidl compare with ALDI?"
This is natural – because ALDI is about the only similar food market in America. Below are our observations and comments.
Lidl doesn't require renting of shopping carts. ALDI cuts costs by not requiring parking lot help. Lidl doesn't have the 25-cent "rental fees." It's no big deal for us either way, but there were carts all over the lot at Lidl. And how does Lidl compete even without that cost-saving measure?
Lidl seemed to employ many more people. I would estimate between 2x and 3x more employees "per square foot" compared with ALDI. Lots of employees stocking shelves, as well as registers. Whereas ALDI typically has only 3 employees at all times – doing all jobs in the store. Makes you wonder how Lidl is competitive.
Fresh bakery. One of the aspects of Lidl that many supermarket shoppers love – is the Lidl Bakery section. Fresh bread and pastries every day. Some even say it's their absolute favorite – for both taste and price. ALDI does offer bread – but none are baked on premises. (Note this didn't phase us – as we are low-carb and carnivore. We shrug our shoulders, but remember the past days when we loved bread, but were too overweight.)
Size – again, Lidl is huge compared to ALDI. Not as big as a Wegmans, for instance – but also a smaller number of SKUs as well.
Shopping program. Lidl offers a shopping card – and app – that allows customers to get bigger discounted prices on select items each week. They also offer rewards for every $150 spent. Many people enjoy the gamification factor – so they're hitting a sweet spot for many customers. (We prefer no nonsense over gimmicks, FYI).
More brand names. ALDI features very few brand name products. We've seen La Croix, Gatorade, and other sweets. But mostly ALDI brands. Lidl has a few more "brand names" in-store than ALDI. They claim 300 brand name products. Not that it matters to people like us – but some folks are loyal to brands nonetheless.
Hours. Lidl has better hours. We think partially because of the more dense area they're located. They're open 8am to 10pm, whereas ALDI is open 9am to 9pm. Just two hours difference, but can be significant depending on your daily schedule, or work hours.
And the big one: PRICES. Overall, some prices were a bit higher, and others (especially the sales) were lower than ALDI. It's safe to say that over the course of a month or year, your expenditures at either place would be about the same. Nothing stood out in particular. But both supermarkets will indeed save you money compared to places like ShopRite.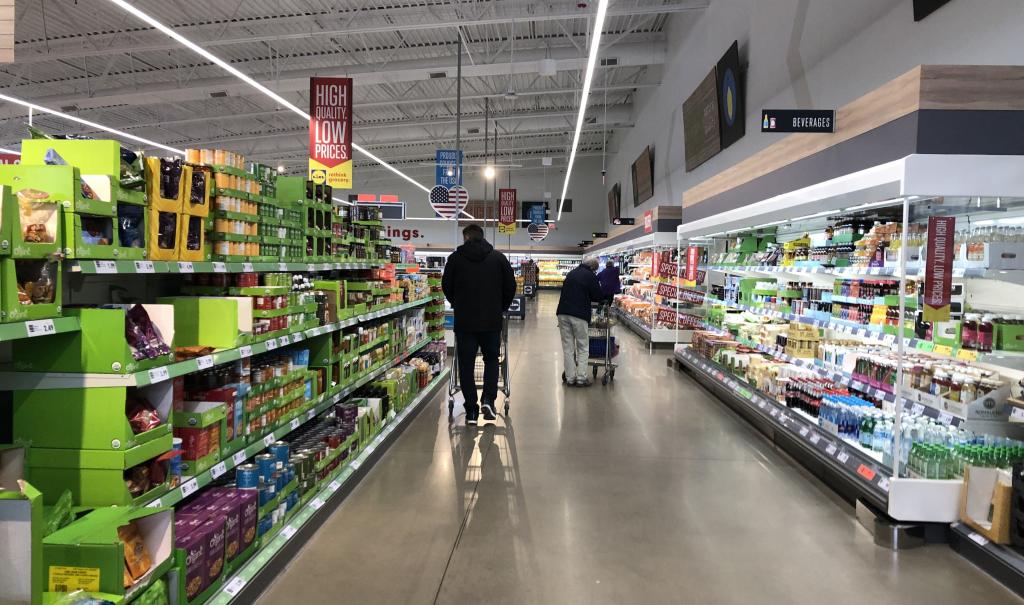 How does Lidl (or ALDI) compare with other supermarkets?
Both ALDI and Lidl are without pharmacies and on-site butchers and seafood. We're okay with that. They also lack "comprehensive" personal care sections. Like feet. Or teeth. Or digestive issues like antacids, etc.)
Also – "selection" is sort of "you get this, and nothing else." Which is fine in our opinion – as almost all their products are satisfactory, if not excellent. Regular supermarkets offer almost TOO MANY options, it's mind-numbing.
Overall – you can easily bang out 90%+ of your weekly food needs at both Lidl and ALDI, in our opinion. Depends on your current dietary "needs," of course.
The old-school supermarkets most of us are used to have many other nuances that many might be accustomed to. Like prepared food. Or an actual deli counter where meats and cheeses are sliced on demand. Or an in-house butcher. Or a cosmetics department. You get the drift.
Switching to Lidl or ALDI as the "primary" source would likely require a change in shopping patterns for most people – as they'd have to either stop some of their previous purchases – or make extra stops to accommodate.
In the end, we LOVE saving money. "Winning" as the phrase goes. And that makes us happy.
Is the supermarket world about to be shaken up?
It will be interesting to see what happens in the future as this trend of bargain-basement food shopping cannot be stopped.
They're coming whether you like it or not.
We'll be watching how established supermarkets will handle this influx of strong competition. If they don't step up their game (especially with prices), there will definitely be some shakeups. We think Lidl and ALDI will do more to ruffle the supermarket industry than even a Walmart has been able to do.
Will there be some casualties? Or will everyone play nice with just a smaller piece of the finite financial pie they have to share? We'll see!