Want to hear something odd? Outside of the general Flemington, NJ area – the Dutch Country Farmers Market isn't all that well known throughout the state!
While it is popular and very busy for the three days they're open each week (Thursday: 10am – 6pm Friday: 9am – 7pm Saturday: 8am – 3pm), this place should be a household name for everyone within an hour drive!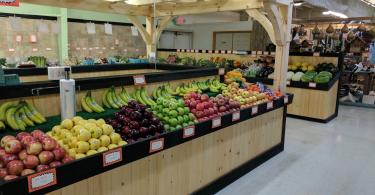 Why we love the Dutch Country Farmers Market
We "discovered" the Dutch Country Farmers Market many years ago – simply because we were curious what was inside. And boy, were we pleasantly surprised by this Amish-run operation.
And back in the day – we indulged in all foods. Especially their carb-laden pretzels (Lil's) and doughnuts (Becca's), which are one of their top draws.
But we've most certainly curtailed the "bad" eating habits since then, but still recall the "bliss" we were in when enjoying those decadent morsels. Today, we value our figure and our health more than succumbing to fleeting and momentary pleasure sensations of the mouth and tongue.
Still many excellent options at Dutch Country Farmers Market
The main "Stands" we patronize when we visit the market are Stoltzfus Fresh & BBQ Poultry, Lancaster County Meats, and Beiler's Cheese & Pickles.
We love Stoltzfus primarily for their cooked BBQ options. Especially the spicy chicken wings. Fantastic! Their raw poultry is also top notch.
And Lancaster County Meats has an incredible array of beef, pork, and lamb. Cuts of red meat for any need or recipe. I happen to think their "bacon pieces" are a great value for those who aren't hell-bent on perfect slices of bacon. My mouth is watering at the moment. Hold on a second.
(wipes off)
And we absolutely always stop in at Beiler's – almost too many options to list. But we love their fresh green pickles and pick up a different selection of cheeses every time.
Back in the day – Esh's seafood & salads was also a regular stop – but since we avoid sugar like the plague these days – it's hard to find much at this stand that doesn't include extra sugar. However, if you're entertaining for others – you can fulfill a lot of your requirements here. The Broccoli & Bacon salad scores big points with guests.
Other food items include the Dutch Country general "produce" section, prepared Roll & Sushi, Marty's giant candy store, and the full-service My Restaurant (with VERY fair prices) as well!
Dutch Country Farmers Market goes beyond just food!
A solid quarter of the store is dedicated to Esh's Crafts. Lots of nice indoor and outdoor furniture Amish Style and build quality. Seasonal items as well as decorations and many other household items. Not necessarily cheap, either – but probably priced right for what you get.
Another handy service is Hubby's Watch Service. If you have any broken timepieces or simply just a watch that needs a battery – bring it here, and they'll tend to it while you shop.
Overall – we are thrilled to have this Amish Farmers Market at our disposal – even if it's just three days per week.
You can call them at 908-806-8476 for general information. See map location below!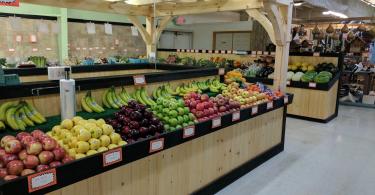 Dutch Country Farmers Market - Old Tyme Commerce
Value

Quality

Experience

Parking
One stop shopping
Dutch Country Farmers Market can pretty much cover most, if not all your shopping needs (besides "packaged food.") We love the retro aspect and appreciate the loyalty of the people who work at each independent (family-owned) stand. You see the same faces – and they remember you almost every time, even if you haven't visited in a long while!
For the most part, the quality is fantastic, although they use way too much sugar in places.
You're almost guaranteed to find at least one (probably more) aspects of this Farmers Market that will make you want to come back again, and again.