Drunken Crab, is a new restaurant that opened in November 2019 at 454 Route 22 West in Whitehouse Station, NJ (Readington, NJ).
Their sub-heading is "Craft Beer & Crab Shack."
A seafood restaurant and bar – is an alternative way of saying it.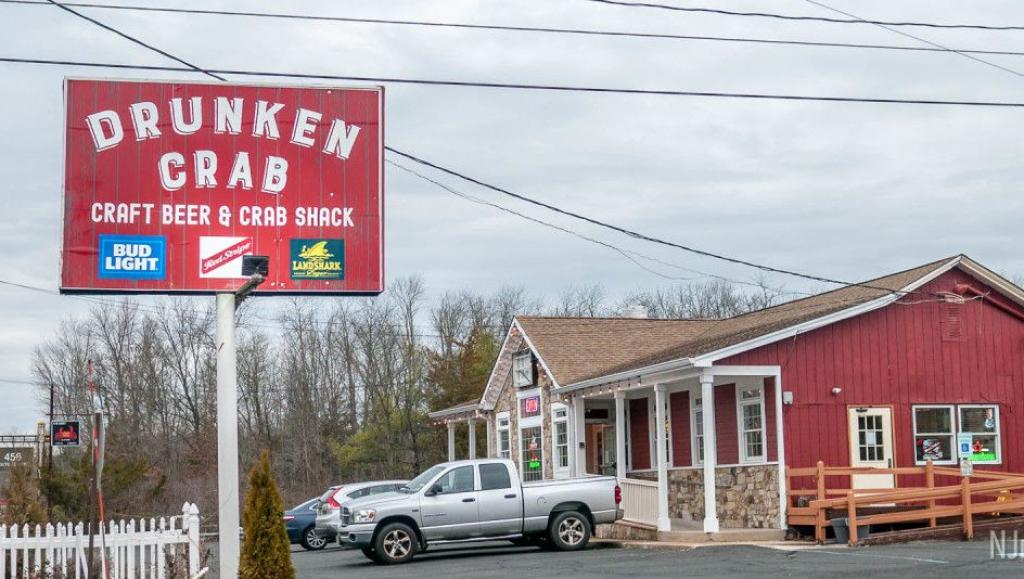 (See our restaurant disclaimer at the end.)
Drunken Crab of Whitehouse, NJ
We originally thought that this might just be yet another iteration of "Nik's" Wunderbar" (as that former restaurant often mixed things up).
But not – entirely new owner (and head chef). More on that in the future.
Drunken Crab appears to be exactly what they say they are. A seafood restaurant with about 30 taps of beer on hand.
We swung by to get a menu recently – and the place certainly scored at least some points, by smelling like good food and fresh cooking oil. That is a plus for sure when it "smells like they know what they're doing!"
Drunken Crab Whitehouse Menu – Take a look
Below is the initial menu in two parts.
As you can see – they specialize in "water-based" food proteins. They refer to non-seafood as food for "land lovers."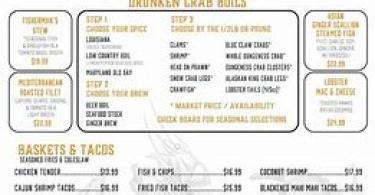 Frankly – we think the prices are a bit steep upon first glance. Wedge salads for $9 is a bit high (iceberg lettuce FFS!) And a chicken alfredo pasta dish for $20 appeared high, too. But the filet mignon seems to be market. But we're not sure about portion sizes – they could level the playing field.
It's hard to nail the aquatic prices – as we cannot be certain if "market" conditions have caused a steep increase in prices since we last ate out. Dinner for two (with appetizers, drinks, and tip) would have no problem cracking $100 a visit.
We will try Drunken Crab though!
Reviews have been positive – and we will try them at least twice before we review them later this year.
We'll do one take-out order – then, depending on the initial feedback – will bring the entire family there to sample the food "in real-time." We'll report back with an honest review then. We typically like to give new restaurants four to six months at least to "settle in and find their groove" before officially chiming in with an opinion.
But we should note, however…
Disclaimer – we're not foodies!
While NJroute22.com makes mentions of food establishments like this from time to time, it should be noted for reference, that we:
Have almost stopped eating any prepared food – for both economic and health reasons.
We think restaurant food is an unnecessary expense, as the experience never makes up for the money spent.
And we prefer cooking our own food. Even if "eating out" is considered easy for many.
We've mentioned in the past – (from our perspective) that the entire mindset of eating out is practically manufactured to be an "industry." Most food at restaurants is both naturally addictive (carbs), and often artificially addictive (via additives like MSG and its counterparts). We're not saying that about this restaurant in particular – but restaurants in general. We're against the grain in regards to this extremely popular human pastime. Not to be Luddites – just big-picture type of people.
Map and contact info for Drunken Crab of Whitehouse, NJ
Address: 454 US Highway 22 West, Whitehouse Station, New Jersey 08889
Phone: (908) 823-4308
Hours: 4pm to 10pm (Tuesday through Friday), 12pm to 10pm (Saturday), 12pm to 9pm (Sunday)
Map:

(Facebook address @DrunkenCrabNJ)