Today – we're going to chat about the fabulous Grounds for Sculpture of Hamilton Township, NJ.
I'll be honest – this well-known establishment has been "well covered" across the board. From old-school media – to the thousands of individuals who share via social media. (In fact, at least 50% of the people we observed had $1000 DSLR cameras in tow!) So this location is no secret.
However, that doesn't stop us from chiming in about this unique place of interest (especially for those who are not yet in tune with what it is exactly!)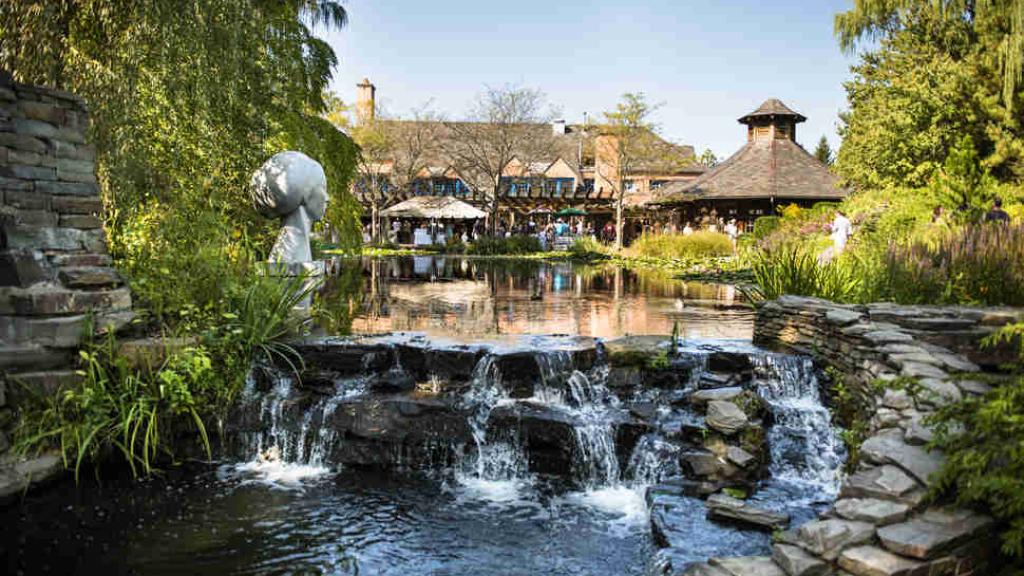 Grounds for Sculpture is a very unique NJ landmark worth visiting
Grounds for Sculpture is a 42-acre (mostly) outdoor "museum" (our interpretation of it).
Located just to the south of Princeton, NJ – and slightly northeast of the NJ state Capitol of Trenton – it's quite a distance from our "backbone" here on NJroute22.com. But at an hour or less from most locations within central Jersey – it's worth the effort.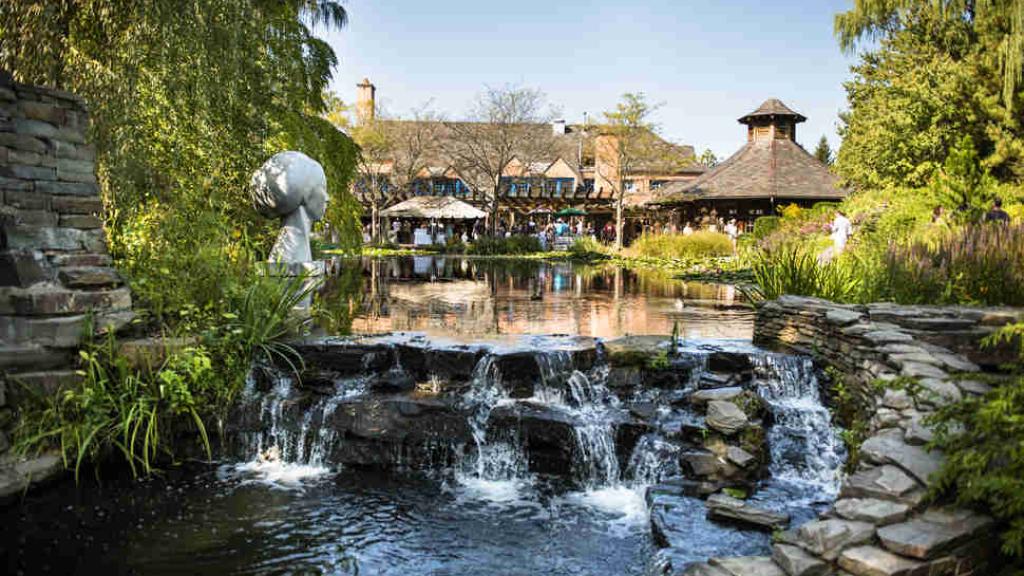 "GFS" (Grounds For Sculpture) is a visual masterpiece
The first thing we'd point out – is that Grounds For Sculpture is a visual symphony. A true masterpiece for us to enjoy.
While it costs money to get in ($18 bucks a pop!), it is worth it for an occasional visit.
To be honest – we don't care too much about the historical aspect of any kind of art – or what motivated the artist. We simply enjoy what they have created on the merit that something was created by hard work and creative vision.
We try not to get hung up on their motives – and try to just see the "end result" from our own perspectives. We happen to enjoy some of the more obscure exhibits – like props made entirely of aluminum or stainless steel.
Of course, there were artists that we didn't connect with. Perfectly natural. Still appreciated the efforts!
That's the beautiful aspect about art. Everyone can form their own opinion (at least today – until they punish you for NOT "liking" something!)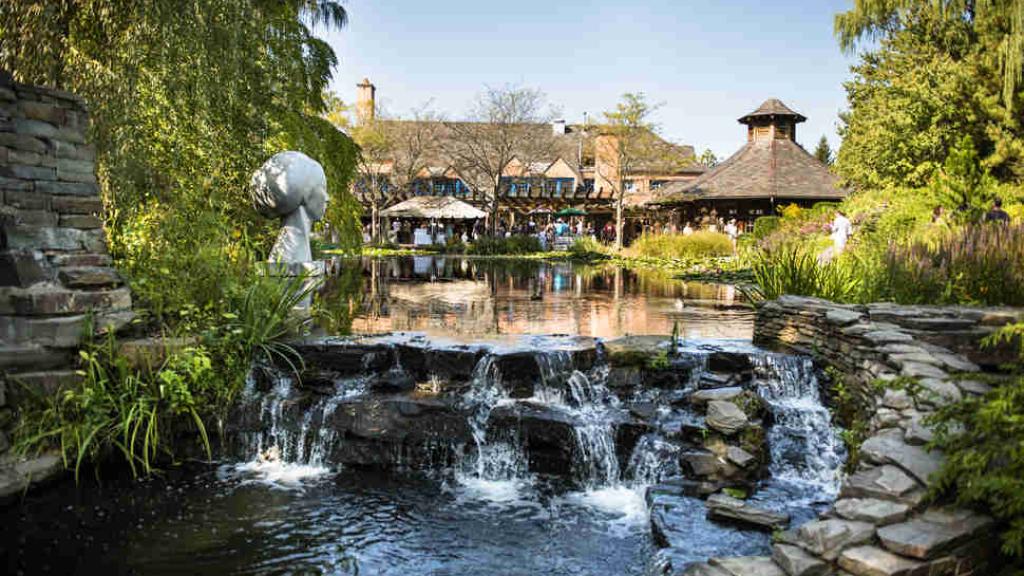 Quick History – Seward Johnson of Johnson & Johnson Family Riches
Note that this massive art endeavor was the by-product of a wealthy member of the Johnson & Johnson family. When you have billions to piss around – this type of output is not unusual. People either don't know what to do with their windfall – and often something that is culturally beneficial to society arises as a result. We're not complaining at all!
Here's a three-paragraph explanation:
In 1984, J. Seward Johnson, sculptor, and philanthropist, envisioned a public sculpture garden and museum in Hamilton, NJ. His desire was to make contemporary sculpture accessible and offer people from all backgrounds the opportunity to become comfortable with contemporary art. Grounds For Sculpture was conceived as a place where audiences could experience sculpture in a familiar, accessible, and informal setting.
Construction on the sculpture park began in 1989 on the site of the former New Jersey State Fairgrounds; Grounds For Sculpture opened to the general public in 1992. Since its inception, the park is now exhibiting over 270 works, including sculptures by renowned artists Clement Meadmore, Anthony Caro, Beverly Pepper, Kiki Smith, and New Jersey sculptor George Segal. Some of the works were commissioned specifically for the sculpture park, such as Magdalena Abakanowicz's Space of Stone and New Jersey artist Isaac Witkin's Garden State. Work on the park and sculpture acquisitions were financed by public tax-exempt bonds and private foundations associated with founder J. Seward Johnson.
Since 2000, Grounds For Sculpture is a public not-for-profit corporation with a Board of Trustees overseeing the successful operation of the sculpture park and museum. As a not-for-profit and public institution, Grounds For Sculpture relies on the support of visitors, art patrons, donations, and grants to offer its rich programs and activities each year.
Tip: Go during "off times"
If I could offer just one tip – go during off times.
We went on a Sunday – and the place was packed. In fact, it reached the maximum capacity of 2,500 attendees just as we paid our entrance fees to the Garden! That is insane!
While the place was not "overwhelming" whatsoever, it still was a bit too crowded to truly appreciate.
Tip: Great to wear out your children!
If you have young kids – this is a fascinating place to take them.
There are many abstract objects you can (try) to explain to your offspring.
Additionally, there are lots of "hidden" exhibits that make it exciting for kids to discover.
Lastly, the mere fact that your boys or girls will have to WALK quite a substantial distance – will give you awesome "exhaustion" points for easier sleep time later in the evening. Plan your day accordingly.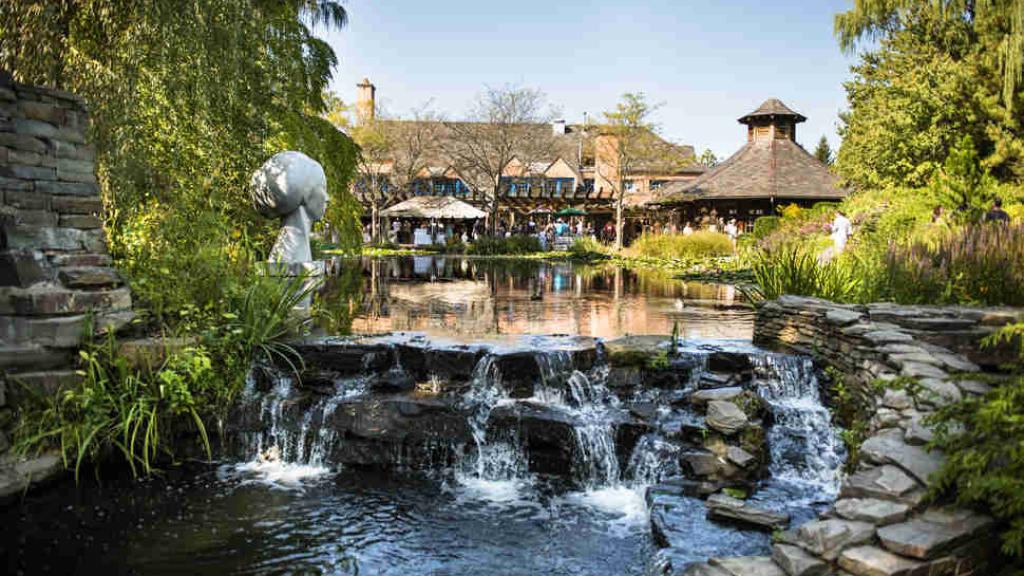 Overall – a bit costly – but Grounds For Sculpture is entirely awesome
Admittedly – this endeavor costs a pretty coin. Perhaps that's good as it keeps the riff-raff out?
Additionally, the restaurant ("Rats") is also quite high-end and expensive. A couple with two kids under 4 years old cost us $120 without alcohol. That is not chump change for the average NJ resident. It's a special event, and we treated it as such.
Final thought – Art is what you make of it
My final segment is about the whole aspect of "Art."
I have no desire to tell you what you like or what is "good" or "bad."
This massive art exhibit was something a wealthy man felt compelled to do.
The "art" does not WOW us ever. We find some exhibits awe-inspiring at times – sometimes just due to the size or scope.
Other times we find the materials fascinating.
But "art" to us – is nothing more that individual freedom of expression. In particular – we don't find it "ground-breaking" or earth-shattering in any capacity. It's just another way to express one's self.