Product Link: https://amzn.to/2SVt5Af
When it comes to "tape guns" (or tape dispensers) most people are used to the most commonly used style. The one with the standard 3-inch core that fits only one kind of packing tape.
These have been moderately acceptable for the most part. But they have their issues. Limited tape choices. Noisy. Sometimes annoying with stuck tape or other usability issues.
We thought – "is there a better way?"
Well there is – and it's the Rapid Replace tape dispenser / tape gun.
Please click our link – we get like 50 cents if you buy one! https://amzn.to/2SVt5Af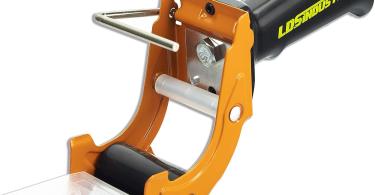 Rapid Replace Tape Dispenser – best overall one we've found
Searching the internet – we found the Rapid Replace Tape Dispenser. It has a unique design compared to what everyone was used to.
It uses a spring-loaded tensioner to keep the roll in – plus two rollers to allow it to move.
We love this – because we can use tape rolls of ANY SIZE CORE.
Occasionally, we pick up some smaller rolls – and this gun can handle it.
And it just works. Like magic. I cannot be more clear about the profound difference compared to the tape guns you were used to. And for about the same price as those other models.
Now we cannot attest to the long-term reliability – but we suspect with proper care, the dispenser should last quite well.