Welcome to the NJroute22.com Cheap Wine Reviews Episode 7, where we talk about the 2015 Baica Barricado Monastrell.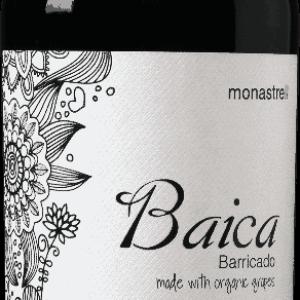 For reference – you can see what the "Wine Enthusiast" magazine (which is just wine industry propaganda) says about it here: https://www.winemag.com/buying-guide/baica-2015-barricado-organic-monastrell-jumilla
We chose this $10.98 bottle of wine – even though it's outside the scope of our "cheap wine" category (any wine $9.99 and under per 750ml) – because it was apparently "deeply discounted" by 71% from a "list price" of $38 per bottle.
Perhaps, we thought, that a "high quality" wine – and almost a cheap wine price would be worth including.
This is available (ONLY apparently) at Buy Rite Liquors – which has a few locations within the NJroute22.com coverage area. We picked ours up in Chatham – but other locations sell it (like Union, NJ) – as well as online ($131 and change per case of 12 bottles).
The "mainstream" review scored 90 "points" (whatever that means to your body and taste buds), and the three sentence snippet of a review is as follows:
"Intense

aromas of inky, leathery black fruits announce a full, saturated palette that's bolstered by tartaric acidity. Plum, blackberry, raw oak and salty flavors are chocolaty on a finish. Drink through 2019."
2015 Baica Barricado Monastrell – Tasty, but over-rated
We won't lie. The Baica Barricado Monastrell tasted "okay." Some parts better than other cheap wines – other aspects were mediocre.
If I had to coerce myself into creating a verbal analysis of my beverage experience – it would be simple.
Was "wowed" by the first sip, thinking it was something special. I was let down. That wow was nothing impactful in my life. Wore off fast.
Overall – if I was forced to opine about the entire experience – I'd say it was essentially pedestrian. Weak, in fact. The initial flavor was just temporary, and I care less about flavors. It's just alcohol, no?
I felt no different than a myriad of other, more affordable wines. Sure, it helped me sleep, I didn't feel wretched the next day (thanks to our prolific hydration principle), but there was nothing notable about this wine. In fact – that "initial" taste may have swayed a lot of people who judge just based on a simple one-ounce taste. Yeah, it's pretty smooth and well rounded. But what the fuck does that mean really? Definitely not orgasmic.
Conclusion for the 2015 Baica Barricado Monastrell red wine
If I was given $12 dollars and had to pick what I spent it at our local liquor store. I would not spend it on the 2015 Baica Barricado Monastrell.
I'd rather pay $5.99 (plus tax) for a cheaper wine – and use the extra cash for peanuts or some other kind of substantive food product (maybe beef jerky or something similar).
That would be a better value, in our opinion. At least you'd have some substance to help you survive at some point in the future, no?
The Baica Barricado was (I guess) a "good" wine – but that bugs us still to this day. How can something be "better" than something else? Really. Depends on the objective, I suppose.
Tastes are tangential. There is no lateral up or down – good or bad. There are nuances. Sure, I was interested in the initial taste bud reaction – but was left uninterested just a few sips later. Like any single person you meet at the local dive bar. Wah, Wahhhh!
Not sure how this would fare, or "pair" with a dinner. Maybe if you're the two-glass drinker with a fancy meal – this could be a mega find! It's up to you and your mindset. We still suggest box wine for the two-glass wine drinker!
We can get away with almost any wine, with the exception of the worst of the worst. The Baica Barricado didn't knock us off our feet – despite the "mid-range" price tag of nearly $40. Even at $11 – we'd probably not want to engage again. Perhaps to "impress" wine-snob guests at some point in the future (as ridiculous as that sounds). However, there are plenty of people who will see that "Once $40 – Now only $10" bargain and be swayed like a sailboat in a hurricane.
Your experiences will vary – but enjoy the buzz as always! That, ultimately, is what counts! (And how you feel the next day!)