Hot air balloons, especially in the NJ Route 22 Central Zone and NJ Route 22 West zone, are fairly common. Particularly in the warmer months.
Flight times, if I can recall, are usually early in the morning, around 6 A.M., and in the evening around 6 P.M.
I remember it being something about the most manageable winds or something along those lines.
And as you might know, there's an annual Quick Chek Hot Air Balloon Festival in Readington, NJ. They launch out of Solberg Airport just to the south of Route 22.
We personally think they're fine. Kind of nice to see every now and then. Quite peaceful (compared to that treacherous scene from that Daniel Craig movie Enduring Love…)
But do Hot Air Balloons pose a serious risk?
Hot air balloons require skilled operators, as well as keen knowledge of the precise weather patterns around.
Even then, the unpredictability of sudden changes in the weather and wind patterns can trouble even the best balloon operators around.
But are they such a force to be reckoned with? If so, why?
How much do they weigh? A couple hundred pounds total? Or is it the potential to mess up power and telecom lines?
We often see balloons come treacherously close to highways – like the cover photo above right over Route 22.
And other times, even…
Landing on other people's property!
We spotted this hot air balloon way too close for comfort and followed it – hoping we wouldn't find mangled bodies somewhere.
It touched down somewhere south of Route 22 – but not at the airport obviously. But in someone's yard.
Luckily – it appears that whoever was piloting the balloon did a good job landing it without damage or injury.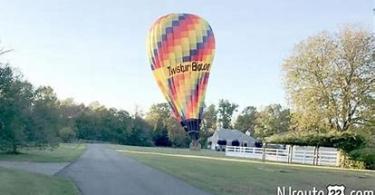 But what if?
What if a kid ran out all of a sudden. Or there was a live alligator farm there or something along those lines?
And since that is considered "trespassing," do property owners get any recourse for that invasion of privacy? Or is just a simple "sorry" good enough?
Are people annoyed by this? Or just take it as par for the course living near a hot air balloon area? Like the same way city-dwellers get used to non-stop police and fire engine sirens.
Will they ever ban hot air balloons in New Jersey?
We're not for the banning of anything at NJroute22.com.
However, I can see hot air balloons being just one click away from a historic memory one of these days. All it takes is some headline-grabbing tragedy, or an incident involving a high-profile person – for the next step to be "we need to regulate" or ban this aeronautic pastime. Some politicians probably hope they have a reason to write new ordinances and so on.
How do you feel about these giant hot air balloons floating around? No big deal, or is the sky falling?