Today's entry is a cornerstone article about the Stop & Shop Supermarkets in New Jersey.
We mention Stop & Shop regularly as part of our weekly Supermarket Roundup Vlog. Each week we receive their circulars and try to incorporate them – since they have a minor presence in the NJroute22.com coverage area.
For now – the locations we'll make future mention of here in this publication are:
Stop & Shop of Phillipsburg, NJ – Stop & Shop of Flemington, NJ – and Stop & Shop of Watchung, NJ.
Other locations we'll consider if we stumble upon them, are the Basking Ridge, NJ, Westfield, NJ, Berkley Heights, NJ and Union, NJ Stop & Shops since they're also relatively within this area. But you'll find out later in this article why we're not particularly in any hurry to do so.
Stop & Shop is part of an international corporate behemoth
We never knew this – but after taking some time to look into what exactly is behind the Stop & Shop operation – we learned that they're part of a $75 billion dollars annual revenue international company called Ahold Delhaize. Headquartered in the Netherlands – this massive company has about 20 "brands" worldwide – and employs over 375,000 people at over 6,500 stores.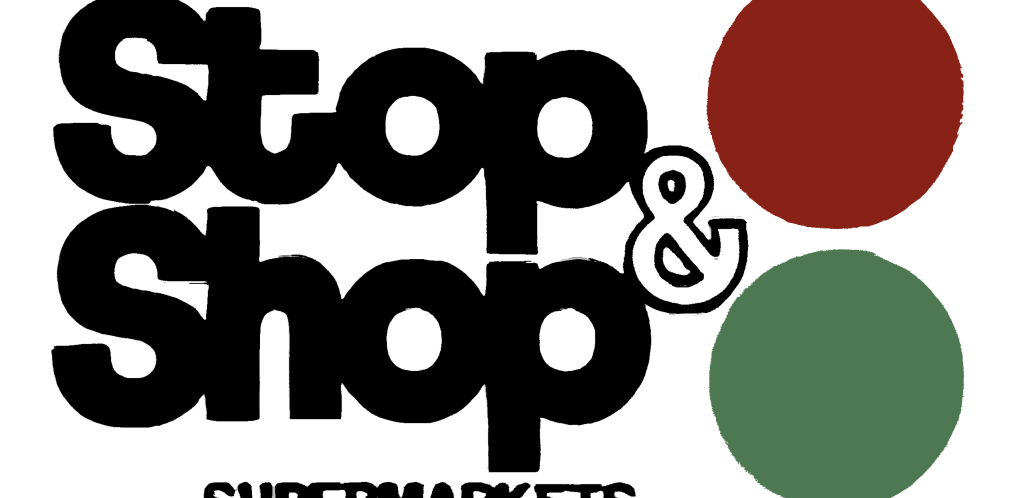 Maybe that explains why Stop & Shop seems so "out of touch?"
After realizing the massive scope of the parent business behind Stop & Shop, it dawned on us that that may be part of the reason why these supermarkets are not up to par with our other options in the area.
ShopRite is no tiny business, but they have a different model – with individual owners operating one or more locations. IGA is also huge – but all their locations are individually-owned as well. Then places like Wegmans are actually family-owned. The actual owners are very close to the stores they operate.
With Stop & Shop – you have this massive hierarchal corporate ladder that leaves the top decision-makers thousands of miles away from the front line.
Additionally, you can see that because of this giant bureaucratic web – these companies are not short on controversies and corruption.
These food stores aren't as local as they're trying to portray. They're more like bargaining chips and are constantly being re-organized and re-shuffled. For instance, the Giant Food stores are essentially Stop & Shop under a different logo.
Their organizational moves and corporate re-structuring is mind-boggling and quite hard to follow. Almost like they're playing a shell game or musical chairs with their corporation just to make things as complex as possible. And what gets lost in the sauce? The quality of their stores.
They cannot even accurately map out the locations of THEIR OWN stores on THEIR OWN websites! Who manages these companies? Perhaps the incompetence is widespread.
Now we know why we're not huge fans of Stop & Shop
So if you've compared the shopping experiences between all the supermarket options we have in NJ, and feel like something is missing from Stop & Shop – that is your answer.
Unfortunately, "convenience" plays a major role in where people choose to get their food. Maybe a better word is laziness because better options than Stop & Shop are always less than 10 minutes further away. But those 10 minutes are "too far" for many folks. I can't understand why – but I guess those are vital seconds for busy people not worth sacrificing for an improved shopping experience.
Here's some history behind Stop & Shop.
Stop & Shop History
Stop & Shop's roots can be traced back to 1892, when Solomon and Jeanie Rabinovitz opened a grocery shop, called the "Greenie Store", at 134 Salem Street, in Boston's North End. This store lasted at this location until 1908. According to the company's web site, Stop & Shop was founded in 1914 in Somerville, Massachusetts by the Rabinowitz family as the Economy Grocery Stores Company. Four years later, the store introduced a new concept to retailing: the self-service, modern supermarket. The chain had grown to 86 supermarkets by 1946, when the name was officially changed to Stop & Shop, Inc.
Stop & Shop purchased the now-defunct department store chain Bradlees in 1961, and sold it in 1992. It also operated a chain of pharmacies named Medi-Mart, which were sold to Walgreens in the late 1980s, as well as Perkins Tobacco Stores in the 1960s and 1970s.
Stop & Shop operates more than 390 stores throughout the three southern New England states, as well as in downstate New York and northern New Jersey. The corporate headquarters is located in Quincy, MA and the current distribution facility is located in Assonet, MA. Until 2006 the firm also operated a large warehouse located off of Interstate 91 in North Haven, Connecticut; while the company's original warehouse was in Readville, MA.
Click to expand and read the rest...
In the late 1980s, The Stop & Shop Supermarket Company was acquired by leveraged buyout specialists Kohlberg Kravis Roberts. Shortly thereafter, Medi-Mart was sold to Walgreens, and Bradlees was spun off as its own corporation. After a period of several years in which KKR explored merger possibilities with Safeway (which it also controlled at the time), Stop & Shop was sold at public offering.
In 1980, Stop & Shop had supermarkets in New Jersey, New York state south of Kingston, Connecticut, Rhode Island, and Massachusetts. The stores were then typical in size at about 30,000 square feet (2,800 m) on average. Many were next door to their then-co-owned Bradlees Department stores. In the New York and Philadelphia metro areas, Stop & Shop was not able to compete successfully. In 1982, Stop & Shop exited New Jersey, selling most of the stores that were profitable to A&P, which would use these stores to replace their aging fleet of stores. Other stores were either sold to other chains or closed and converted to other uses. In New York State they sold some of their stores to A&P while selling others to Grand Union and closing others, converting them also to other uses.
Also, in 1982, Stop & Shop built their first Superstore in the Springfield, Massachusetts area. These stores would be between 45,000 square feet (4,200 m) and 80,000 square feet (7,400 m). In addition to traditional supermarket offerings, these stores feature bakeries, pharmacies, moderate selections of general merchandise one would not expect to find at a supermarket, expanded deli departments, cafes, and a salad bar. Also some of these stores would feature a bank, expanded liquor and beer, video rentals, etc. Throughout the 1980s and into the 1990s, the traditional supermarkets were converted one by one into superstores. Some were remodeled, others were torn down and a new store rebuilt in the same location, while others were closed and replaced with a super store within a mile or two. By 1990, Stop & Shop operated in Connecticut, Rhode Island, Boston area, and Springfield, MA areas only except for its New York state location (which would be closed in 2000 and was joined in 1994 with a Superstore nearby in Wappingers Falls, NY). The Bradlees chain, which also had stores in Maine, New Hampshire, Vermont, New York, New Jersey, Pennsylvania, Delaware, Maryland, and Virginia, was sold in 1992, and was liquidated after two bankruptcies in 2000.
The chain was acquired by the American branch of Dutch food giant Ahold in 1995. Ahold had previously acquired First National Supermarkets, whose Edwards Super Food Stores and Finast chains also had a strong presence in Connecticut, and Ahold planned to operate both the Edwards and Stop & Shop chains side by side. However, in the wake of the acquisition, Connecticut Attorney General Richard Blumenthal raised anti-trust questions, as Stop & Shop and Edwards combined had more than half of the grocery market share in Connecticut. Following negotiations with Blumenthal, Ahold decided to convert all of its New England stores to the Stop & Shop banner, while selling some locations to other chains such as Shaw's, Shop Rite, and Grand Union. Ahold also began building stores under the Edwards Super Food Stores banner in New York state and New Jersey. They also acquired 26 independent Mayfair Foodtown stores in that area, converting them to Edwards. From 1998 to 1999, several Super Stop & Shop stores were built in the northern Hudson Valley near the Poughkeepsie location.
In 1999, Ahold announced its plan to acquire Pathmark supermarkets. Under that deal, all the Edwards stores would be renamed Pathmark along with the Giant Stores of both Carlisle and Landover. Late in 2000, after Grand Union was about to enter Chapter 7 bankruptcy and liquidate, Ahold walked away from the Pathmark deal and proposed acquiring many of the Grand Union locations instead.
At that point, Ahold continued the transition of its Edwards stores, converting all of its New York and New Jersey locations to the Stop & Shop format late in 2000. In 2001, Ahold acquired most of the Grand Union locations in New Jersey and New York state south of Kingston. These were all renamed Stop & Shop. Other locations went to other supermarket chains, non food chains, or closed altogether. In 2003, Ahold acquired many of the A&P Foodmart locations in the Hartford, Connecticut area, Rhode Island, Massachusetts, and the one remaining New Hampshire store. Other A&P locations in that region closed or were sold to other supermarket chains. In 2004, Ahold integrated Stop & Shop Supermarkets with Giant Food LLC and created one combined company with the name of Stop & Shop/Giant-Landover.
In 1994, Giant-Landover began northern expansion by opening stores in Pennsylvania, Delaware and New Jersey under the Super G trade name. This was done to differentiate itself from future sister company Giant Food Stores of Carlisle, Pennsylvania. During 2005, the newly formed Stop & Shop/Giant made the decision to phase out the Super G name in New Jersey and Delaware. In New Jersey, four Super G stores were shuttered and the remaining eight stores were converted to the Super Stop & Shop banner and became a part of Stop & Shop's New York Sales Division in an attempt to revive sales at the stores. These stores continued to underperform and were subsequently sold in 2007 to ShopRite franchise owners. The Delaware Super G stores were to be remodeled under the Super Stop & Shop format and reopened under the Super Giant banner. Super G stores in Pennsylvania were generally close to Giant-Carlisle locations and were also closed.
In 2006, Stop & Shop signed a contract with Starbucks, placing the coffee shop chain's licensed stores inside certain supermarkets. Many Stop & Shop stores currently feature Dunkin' Donuts outlets inside the store. Also in May 2006, Stop & Shop began piloting the Shopping Buddy program in select stores in Massachusetts and Connecticut. The Shopping Buddy is a personal shopping assistant that allows customers to track their purchases and to do in-cart bagging as they move through the store.
In October 2007, Stop & Shop launched an advertising campaign which was intended to have users submit stories and videos to a website detailing their grocery store experiences. The campaign was significant in that it is an early example of a regional traditional brand employing Web 2.0 concepts such as user-generated content to promote their stores.
On August 22, 2008, Stop & Shop changed its logo as a re-branding project along with its sister company, Giant-Landover.
In August 2009, Stop & Shop announced closures and re-brandings for a large portion of the licensed Starbucks stores opened in 2006.
In 2007 Stop & Shop made an attempt to expand further into northern New England. They built, but did not operate, a single Vermont store in Rutland before selling it to rival supermarket operator Delhaize. Delhaize opened the store under its Hannaford banner in February 2008.
Also, in July 2007 Stop & Shop opened a single Maine store in Kennebunk. The store was closed in October 2009, citing slow sales as the primary reason. At the same time, they abandoned plans to build a second Maine store in Portland. Delhaize purchased the vacant Kennebunk location in December 2009 and later reopened the property under the Hannaford banner.
In 2010, Stop & Shop's parent company, Ahold USA, plans to relocate its corporate headquarters which is currently based in Quincy, Massachusetts to Carlisle, Pennsylvania in order to centralize Ahold's US operations in one location.
Currently (as of late 2013), Stop & Shop operates stores in Massachusetts, Rhode Island, Connecticut, New York and New Jersey. Connecticut, Massachusetts, and Rhode Island in particular have a very strong Stop & Shop base – almost to the point of saturating the market – and Stop & Shop is far beyond their competitors in number of stores operated in those three states.
All six of the remaining New Hampshire stores closed in August 2013 due to heavy competition, marking the chain's final departure from northern New England. A few Connecticut stores, in Bridgeport, Hamden, and Orange, also closed during the two subsequent years.
In July 2015, Stop & Shop's parent company Ahold announced the intentions to purchase 25 stores from A&P (which filed for Chapter 11 bankruptcy earlier that month), including A&P's most profitable location in Mt. Kisco, New York, and convert all of the purchased stores to the Stop & Shop banner by the end of November 2015. On September 22, 2015, the sale of 25 A&P stores to Stop & Shop and 70 A&P stores to competitor Acme Markets was approved by a judge in federal bankruptcy court. Most of the stores purchased by Stop & Shop and Acme had been operating under the Pathmark or Waldbaum's banners (A&P had acquired Waldbaum's in 1986 and had bought Pathmark in 2007).
Today, Stop & Shop operates over 420 stores throughout the three southern New England states, as well as in downstate New York and northern New Jersey.